LOICZ Organization
<![if !vml]>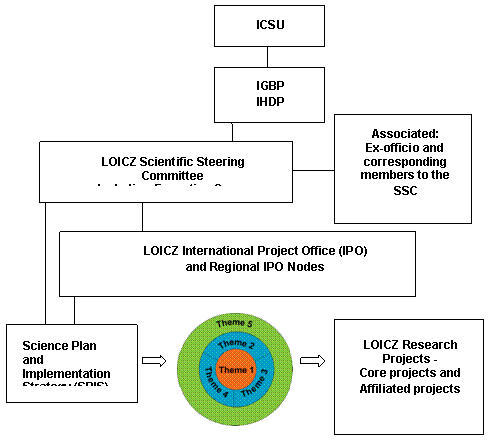 <![endif]>
Land-Ocean Interactions in the Coastal Zone (LOICZ) is a core project of the International Geosphere-Biosphere Programme (IGBP) and the International Human Dimensions Programme on Global Environmental Change (IHDP). A study of Global Change of the International Council of Scientific Unions (ICSU).
The IGBP Science Committee (IGBP-SC) established the SSC and is also responsible for the subsequent appointment of the Chair, Vice-Chair and members.
The Scientific Steering Committee (SSC) provides scientific guidance and oversees the development, planning and implementation of the LOICZ Core Project. 
The LOICZ International Project Office (IPO) is responsible for the administration of the project on a day-to-day basis, under the strategic guidance of the SSC.  The IPO role includes: co-ordination, planning, communication, advocacy and provision of a technical secretariat. During the whole transition phase (2003-2005) the IPO was located at the Royal Netherlands Institute for Sea Research, Royal NIOZ, Texel, The Netherlands. As of January 2006 the IPO is located at the Institute for Coastal Research at GKSS, Geesthacht, Germany
The aim of the Regional IPO Nodes is to promote and secure the future of LOICZ. The first Thematic Regional Node has been established in Singapore, a second Node has opened at GKSS in Germany and the third Regional IPO Node at the National Science Foundation in Colombo, Sri Lanka. The establishment of Regional Nodes in Africa and Australia are currently under development.
Science Plan and Implementation Strategy
The original Foci structure of LOICZ terminated with the end of 2002. A Theme Structure will provide the underlying framework for implementation of LOICZ II; the project will be organized under five themes:
Vulnerability of coastal systems and hazards to human society

Implications of global change for coastal ecosystems and sustainable development

Anthropogenic influences on the river basin and coastal zone interactions

Biogeochemical cycles in coastal and shelf waters

Towards coastal system sustainability by managing land-ocean interactions
Crosscutting activities, such as scaling and modeling, variability, dissemination and acquisition (of data and funds) support these themes.
Most of the research under LOICZ is carried out in core and affiliated projects
How is LOICZ funded?
The LOICZ International Project Office (IPO) is based at the GKSS Research Centre, part of the Helmholtz Association of National Research Centres. As part of the Institute for Coastal Research the GKSS provides core funding for IPO personnel and operations as well as in-kind support for office and facilities. The IGBP provides annual financial support for LOICZ Scientific Steering Committee meetings as well as IGBP Scientific Committee and IPO Officers meetings. The IHDP supports participation of LOICZ SSC and IPO in their Scientific Committee and Project Leaders meetings. This combined core funding also allows for key scientific synthesis and cross-cutting activities as described in the LOICZ Science Plan and Implementation Strategy (SPIS).
Sponsors & Supporting Organizations
For LOICZ projects, regional workshops as well as (Open) Science Conferences and participation in LOICZ related meetings we have received financial and in-kind support from a variety of organizations, these include:
APN                Asia-Pacific Network for Global Change Research
EU                  European Union
IAI                   Inter America Institute for Global Change Research
IHP                 International Hydrology Programme of UNESCO
(United Nations Educational, Scientific and Cultural Organization)
IOC                 Intergovernmental Oceanographic Commission of UNESCO
IOI                   International Ocean Institute
KNAW             Netherlands National Academy of Sciences
NSF                National Science Foundation
RIKZ               Dutch Institute for Coastal Zones
SCOR             Scientific Committee on Oceanic Research
START           Global Change System for Analysis Research and Training 
UNEP-GEF    United Nations Environmental Programme – Global Environmental Facility
UNEP-GPA    United Nations Environmental Programme – Global Programme for Action
WOTRO         Netherlands Foundation for the Advancement of
Tropical Research